Arkansas State women's basketball hosts Arkansas Friday night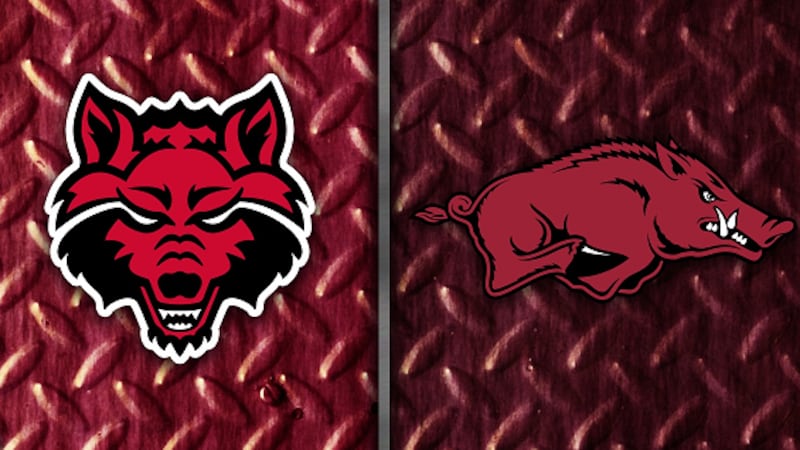 Published: Nov. 16, 2023 at 11:16 AM CST
ARKANSAS (3-0) AT ARKANSAS STATE (1-1)
FRIDAY, NOVEMBER 17, 2023 • 7:00 PM • JONESBORO, AR • First National Bank Arena
TV: ESPN+
Radio: EAB Red Wolves Sports Network
Live Stats AStateRedWolves.com
Arkansas State is playing its 50th season of women's basketball, with the program owning a 784-622 (.557) overall record entering Friday's contest. Those 784 wins are fourth most among active Sun Belt programs.
Destinee Rogers returns for her second season at the helm of the Red Wolves. She finished her first full season with a 13-19 overall record and a 6-12 record in conference play. However, the team finished last season on a high note after taking six of their final nine games.
A-State has two non-conference road games this season, with the first being a 55-42 loss at South Dakota State and the second taking place at Kansas City on December 2.
The Red Wolves enter the 2023-24 campaign with a veteran-heavy roster consisting of nine juniors, one senior, and one graduate student. It is a stark contrast to last season, which featured one graduate student, two seniors, and one junior.
ABOUT LAST GAME
A-State outscored NIU 44-29 in the 2nd half to secure their first win of the season. Izzy Higginbottom set career highs for points (31) and rebounds (8) while shooting 11-12 (91.6%) from the free-throw line. Wynter Rogers continued to build on what was a successful ASU debut against South Dakota State with 11 points and six rebounds. Anna Griffin fell one point short of her first double-double of the season after bringing in a team-high 13 rebounds. The Red Wolves shot 27-61 (44.3%) fromthe floor and made nine 3-pointers on 24 at- tempts. The team brought down 38 boards along with 14 assists and 8 steals. The Huskies shot 34.3% (23-67) from the field and 25.7% (9-35) from beyond the arc. They also had four players score 10 points or more during the contest.
INSIDE THE SERIES
Arkansas State and Arkansas will meet for the fourth time in series history and the third time in Jonesboro. The Red Wolves and Razorbacks split the first two meetings at First National Bank Arena in 2005 and 2021, while the latter took last season's meeting by a score of 77-63 in Fayetteville.
A-State bounced back from a season-opening defeat at South Dakota State by claiming the Sun Belt's first win in the SBC MAC Challenge with a 75-62 win over Northern Illinois on 11/9.
Arkansas is looking to build on a 2022 campaign that featured a 24-13 record and an appearance in the WNIT Great Eight. They are currently 3-0 and defeated Little Rock 77-36 on Tuesday. Mike Neighbors enters his seventh season in Fayetteville, possessing a 123-77 record with the Razorbacks and a 221-118 record overall. Before taking over at Arkansas, Neighbors led the Washington Huskies to a 98-41 record over 4 seasons (2014-17).
Taliah Scott leads the way for Arkansas this season, averaging 24.0 PPG throughher first three contests. She is 24-51 (47.1%) from the floor this season and 21-26 (80.8%) from the charity stripe. Saylor Poffenbarger has been a menace in the paint this season, averaging 13.7 RPG along with 9.7 PPG. She has 6 blocks along with five steals this season.
Copyright 2023 KAIT. All rights reserved.