Arkansas State football hosts Texas State Saturday in home finale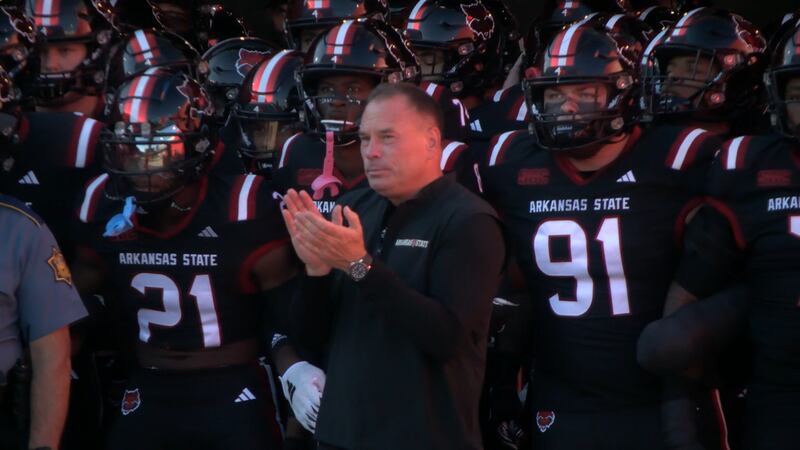 Published: Nov. 17, 2023 at 10:13 AM CST
JONESBORO, Ark. (KAIT) - Arkansas State football can become bowl eligible with a win in their home finale.
The Red Wolves host Texas State Saturday at 2:00pm at Centennial Bank Stadium. The Sun Belt West matchup will be streamed on ESPN+
A-State has several promotions this weekend, including a Demario Davis bobblehead, 4 tickets & parking for $40, and much more. You can see more details here.
Saturday also marks Senior Day for Micah Bland, Jalen Cunningham, Jeff Foreman, Thurman Geathers, Hamilton Hall, Samy Johnson, Leon Jones, William Przystup, J.T. Shrout, Eddie Smith, and Brian Snead. They will be honored at 1:35pm.
"All those guys mean a lot to me because we've gone through a lot together building this program and some have only been here for one year but they've left their mark on our program in moving forward," head coach Butch Jones said in a Tuesday press conference. "The older players have to be something or somebody that our younger players want to emulate, and these individuals have done that so they've left their mark."
Wide receiver Jeff Foreman is one of two seniors that have played five seasons with the Red Wolves. "I've been here for four years, going on five. Just seeing us at our ups and seeing us at our downs, just seeing us now as we improve. I came in as a freshman, went to a bowl game with a very experienced team. And now hopefully we can leave my legacy at a bowl game," he said Tuesday.
Little Rock native Samy Johnson reflected before his final home game with the Red Wolves. "I've been thinking about it a lot this upcoming week obviously, but really honored to have called this place my home for the past five years," he said. "Throughout all the changes, the fans have been the same. Although the stakes are high, this is honestly just like another game for me. I have to go out there and do my job and make sure we get a win just like everybody else and I don't want anyone else to think any different of that."
Copyright 2023 KAIT. All rights reserved.