Arkansas to retain Pittman as head coach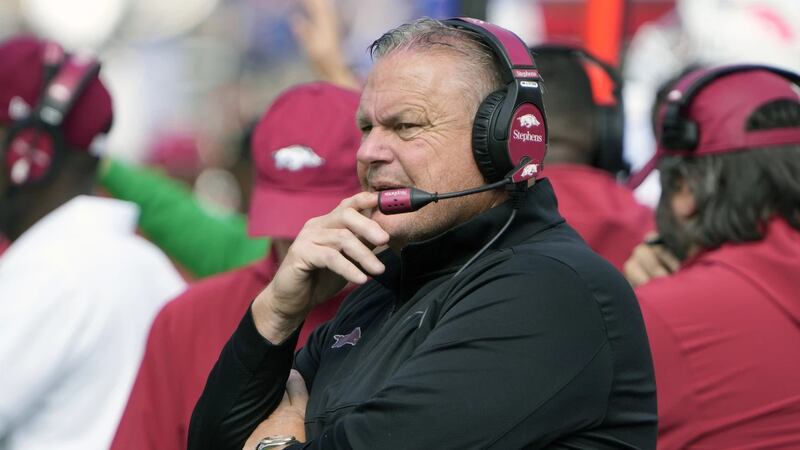 Published: Nov. 19, 2023 at 1:06 PM CST
FAYETTEVILLE, Ark. (KAIT) - Sam Pittman will be Arkansas' head coach in 2024, Razorback Athletic Director Hunter Yurachek said in a statement Sunday afternoon.
"Our team was extremely excited last night after the game when I informed them that Coach [Sam] Pittman is our head coach and will be moving forward into the 2024 season," Yurachek said. "This has not been the season any of us anticipated. We have work to do. I am confident that together, we can meet the goals and expectations of our program."
The Razorbacks, in their fourth season under Pittman, improved to 4-7 after beating Florida International Saturday afternoon. Arkansas had back-to-back bowl wins and back-to-back seasons ranked inside the top 25, but the team has won just 11 of its last 24 games, and has lost seven of its last eight games against ranked opponents.
Pittman, who is 23-24, 11-22 in SEC play as Arkansas' head coach, had been questioned about his job security over the past few weeks. The head coach has adamantly denied rumors he was on the hot seat.
"I don't think I'm getting fired, guys, or [Hunter Yurachek] would've told me I'm getting fired," Pittman said in Saturday's press conference following the FIU win. "So I'm not for sure why I have to answer these questions about getting fired or not."
Arkansas (4-7, 1-6 SEC) will close its season Friday, November 24 at home against #10 Missouri. Kickoff is set for 3:00 p.m. on CBS.
Copyright 2023 KAIT. All rights reserved.