Arkansas State has record-breaking performance to become bowl eligible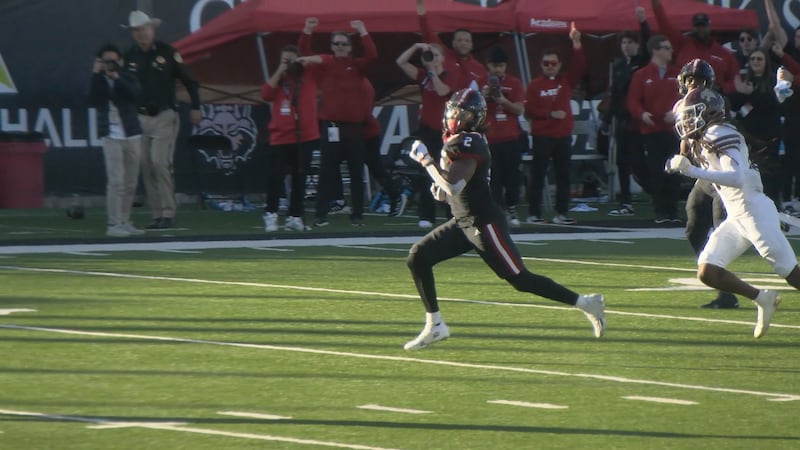 Published: Nov. 18, 2023 at 6:08 PM CST
|
Updated: Nov. 19, 2023 at 9:35 AM CST
JONESBORO, Ark. (KAIT) - Arkansas State set a Sun Belt record for most points scored by a team in a conference game, beating Texas State 77-31 to become bowl-eligible at Centennial Bank Stadium Saturday afternoon.
It's the first time A-State has become bowl-eligible since 2019. It would be Butch Jones' first bowl game as a Red Wolf and first bowl game as a head coach since 2016.
The Red Wolves (6-5, 4-3 Sun Belt) had seven rushing touchdowns, two pick-sixes, a fumble recovery for a touchdown, and a kickoff return for a touchdown, becoming the first FBS team to do all of that in the same game since at least 2000. The last team to have a similar stat line was New Mexico in 2012. The Lobos had five rushing TDs, and one TD each of a pick six, a scoop and score and a kickoff return.
The Bobcats (6-5, 3-4) actually outgained the Red Wolves 539-487 but gave up 42 unanswered points as A-State gashed them on the ground. Butch Jones' pack ran for seven touchdowns (tied for seventh most in a single game in program history and the first time since 2014) and 291 yards. Zak Wallace accounted for the first two, the Benton native broke off a 41-yard run on fourth down to tie the game at 7, then an 8-yard run to give the team a 14-10 lead. Wallace would leave the game due to a lower body injury in the second quarter and would not return.
Fordyce native Ja'Quez Cross broke off three touchdown runs of 42 yards, 15 yards and 57 yards, all in the second quarter to push the A-State lead to 35-17 at the half.
Then, Stuttgart native and true freshman Cedric Hawkins opened the second half with touchdowns on back-to-back drives to push the lead to 49-17. The lead would only climb from there thanks to the play of the defense. Trevian Thomas recovered a fumble and went 91 yards for a scoop and score to make it 56-17.
The Bobcats would find their way back on the board thanks to a TJ Finley pass to Kole Wilson to make it 56-24. The former Auburn quarterback threw 55 passes, completing 37 of them for 366 yards, 3 touchdowns and 2 interceptions.
Cross would take the ensuing kickoff 93 yards for a touchdown. The sophomore finished with 320 all-purpose yards and became the first FBS player in 2023 to record over 100 rushing yards and 100 kickoff return yards. He's just the 8th player since 2000 to record at least 3 rushing touchdowns and a kickoff return TD.
A-State would add 14 more points in the fourth quarter, despite the offense not taking the field until the game's final drive, a stretch that lasted 17 in-game minutes. Melique Straker (87 yards) and Dane Motley (50 yards) each had a pick six to give the Red Wolves the most points the team has scored against an FBS foe in school history.
With 77 points, the Red Wolves tied its scoring output with the 1987 game against Texas A&M Commerce. Only an 83-point performance in 2008 against Texas Southern and 101 against UCA in 1917 sits ahead of Saturday's offensive onslaught.
A-State will close out the regular season on Saturday, November 25 when the team goes on the road to Marshall. Kickoff is set for 2:30 p.m.
Copyright 2023 KAIT. All rights reserved.