Cook drives No. 11 Missouri to winning field goal with 5 seconds left for victory over Florida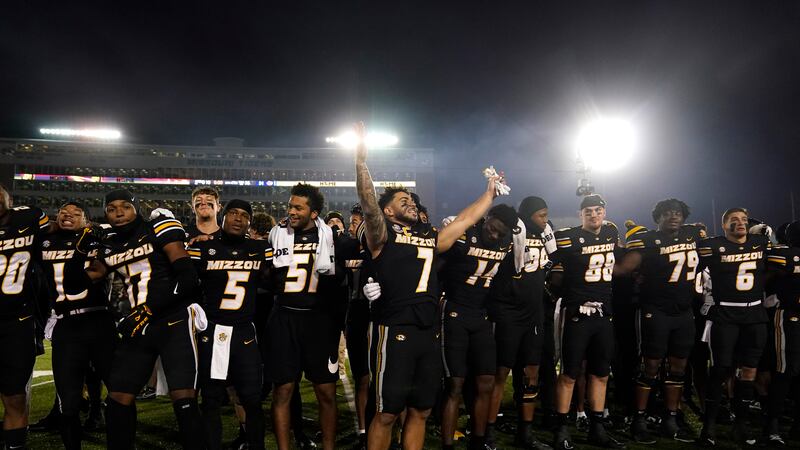 Published: Nov. 18, 2023 at 10:59 PM CST
COLUMBIA, Mo. (AP) — Harrison Mevis kicked a 30-yard field goal with five seconds remaining, and Brady Cook completed 20 of 34 passes for 326 yards and a touchdown to help No. 11 Missouri rally past Florida 33-31 on Saturday night.
Cody Schrader carried the ball 23 times for 148 yards and a touchdown, Luther Burden III caught nine passes for 158 yards, and Mevis converted all four of his field goal attempts as Missouri (9-2, 5-2 SEC, No. 9 CFP) narrowly avoided losing to an unranked opponent for the first time this season.
Montrell Johnson Jr. had 12 carries for 85 yards and Trevor Etienne ran 15 times for 82 yards and a touchdown as Florida (5-6, 3-5) gained 261 yards on 40 carries.
Gators starting quarterback Graham Mertz completed 14 of 21 passes for 183 yards and two touchdowns with an interception before exiting with 2:09 remaining in the third quarter. Mertz left the field holding his collarbone after handing off to Johnson. Mertz appeared to hurt himself initiating contact with Missouri defenders Tre'Vez Johnson and Ennis Rakestraw Jr. on the previous play.
Redshirt freshman Max Brown completed four of five passes for 56 yards in relief of Mertz and gained 42 yards on seven carries.
Trey Smack kicked a 35-yard field goal with 1:35 remaining to give Florida a 31-30 lead.
Etienne scored his second touchdown of the game on a nine-yard run with 7:49 left to cut Missouri's lead to 30-28.
Missouri went up 30-21 with 13:14 to go when Wease hauled in a 77-yard touchdown pass from Cook two plays after Kristian Williams recovered a fumble by Brown as he attempted to hand off to Montrell Johnson Jr. at the Missouri 19-yard line.
Burden hauled in a 48-yard reception from Cook with a seven-yard roughing-the-passer penalty tacked on, but Florida's defense held in the red zone for the third time as Mevis kicked a 25-yard field goal to give Missouri a 23-21 lead with 3:53 remaining in the third quarter.
Florida pulled ahead 21-20 when Ricky Piersall scored on an end around from 38 yards out.
Cook scored from inside Florida's 1-yard line with 8:53 remaining in the third quarter to put Missouri back on top 20-14.
Etienne pulled in a 37-yard touchdown reception with 11:54 to play in the third to push Florida ahead 14-13.
Mevis connected on a 38-yard field goal with 1:49 left in the first half to expand Missouri's lead to 13-10.
Missouri pulled ahead 10-7 after Schrader ran unimpeded for 43 yards into the end zone on the Tigers' second play of the second quarter.
Mertz connected with Eugene Wilson III on a 9-yard touchdown pass to put Florida up 7-3 with 7:49 remaining in the first quarter.
TAKEAWAY
Florida: The Gators struggled to consistently move the ball early but found success running it in the second half while being able to hold Missouri to two touchdowns in six red-zone attempts.
Missouri: The Tigers struggled at times defensively without senior linebacker Ty'Ron Hopper but leaned on Schrader until Cook started finding his groove in the passing game.
POLL IMPLICATIONS
Missouri could move into the AP Top 10 but will be hard-pressed to move up from ninth in the College Football Playoff ranking.
UP NEXT
Florida: Hosts rival Florida State next Saturday night needing a win to earn bowl eligibility.
Missouri: Plays at Arkansas on Friday.
To report a correction or typo, please email digitalnews@ky3.com
Copyright 2023 KY3. All rights reserved.