Amid higher suicide rates and gun violence CPO offers tips on safe firearms storage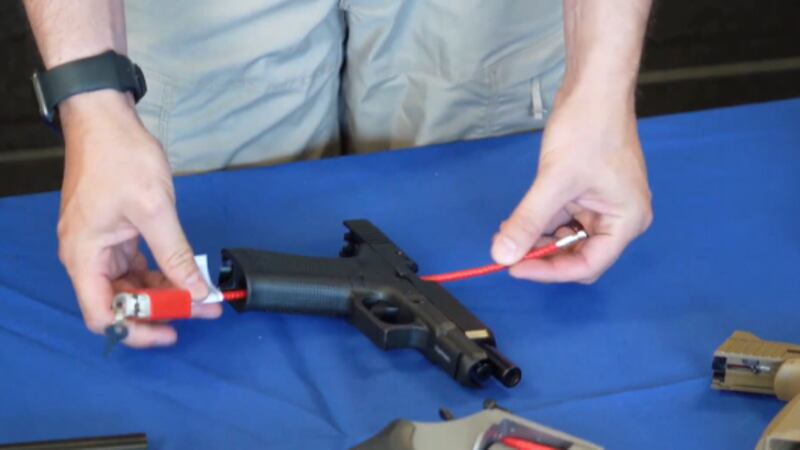 Published: Nov. 20, 2023 at 5:57 PM CST
SPRINGFIELD, Mo. (KY3) - The Community Partnership of the Ozarks is trying to do its part to address gun violence by putting together a series of instructional videos on how to store your firearms safely.
To view the videos, go to www.cpozarks.org/safe.
The videos were created by CPO through the Christian County Suicide Prevention Network in partnership with CoxHealth Injury Prevention, Greene County Sheriff's Office, and Eagle Armory. The videos show that there are a range of safe storage options and show how to use cable locks and trigger locks along with tips and insights on other methods of safe storage that provide quick access to firearms.
"Right now cable locks and trigger locks are both available at any of our CoxHealth Emergency Department locations," said Luke Spain from CoxHealth Trauma Services, who is one of the hosts in the video. "And what we've been noticing is a lot of people may not utilize those locks properly. Some handguns might be easily secured but then you get into some of the more unique firearms like a bolt-action or lever-action rifle and people may not know how to secure those with something like a cable lock."
On the home webpage you'll notice one longer overall video and then shorter videos for seven separate types of firearms including handguns, shotguns and rifles.
And if it comes down to choosing between cable locks or trigger locks?
"It can really come down to the type of firearm," Spain answered. "Cable locks can be the most inexpensive and readily available but there are some firearms that can be tricky to secure with a cable lock. So trigger locks are most often better because they can be used on pretty much any type of firearm. It is important to point out that there are different kinds of trigger locks. There are those that use an actual key or combination but there are much cheaper versions of trigger locks that typically come with a lot of firearms that don't require an actual key. They are a little more difficult to work with an aren't a custom key as much as a universal key so they're not quite as safe and secure as others might be."
The video also shows various types of vaults and lockboxes.
"There's a huge audience of people who want a firearm readily accessible in their home," Spain pointed out. "So there are a lot of different ready-vaults and quick-access gun boxes available. My favorite uses a variety of different methods of access. You can use an RFID chip (radio-frequency identification that uses electromagnetic fields to automatically identify and track tags attached to objects). You can attach them to your watch or bracelet and it gives you instant access to unlocking the vault door. They make some that use fingerprint ID, voice activation or four-digit codes."
CPO's reasons for making the videos are pointed out towards the end of the presentations as the hosts explain that firearm-related injuries are the leading cause of death in children and teens and in Missouri 6-out-of-10 suicides involve a firearm.
"And 90 percent of those who attempt suicide with a firearm die from that attempt," said CPO Vice-President of Prevention and Youth Support Chris Davis. "If they don't have access to a firearm then they are much less likely to die from a suicide attempt and much less likely to attempt it. Even if it's a delay of 10 minutes-or-less there is a significant decrease in an attempt ever occurring."
And for adults who don't think there's a need to secure their firearms in a safe place, Spain compares that mindset to being in a car.
"People don't think about it too much but there's an incredibly high number of road fatalities across the country," he said. "That's why wearing a seatbelt is such a big deal. We do that in case something goes wrong. And that's the same reason we should consider the safe storage of firearms. You may never have had anything go wrong before but you never know. We need to encourage those best practices when it comes to preventing injuries and fatalities in the home."
On its website CPO also offers free Home Safety Kits that include a medication/firearm lock box, firearm cable lock, safe medication disposal bags and educational materials on suicide prevention and substance use prevention.
To report a correction or typo, please email digitalnews@ky3.com
Copyright 2023 KY3. All rights reserved.