Johnny Cash family members in Jonesboro to announce concert
Published: Apr. 14, 2011 at 10:21 PM CDT
|
Updated: Apr. 15, 2011 at 9:58 AM CDT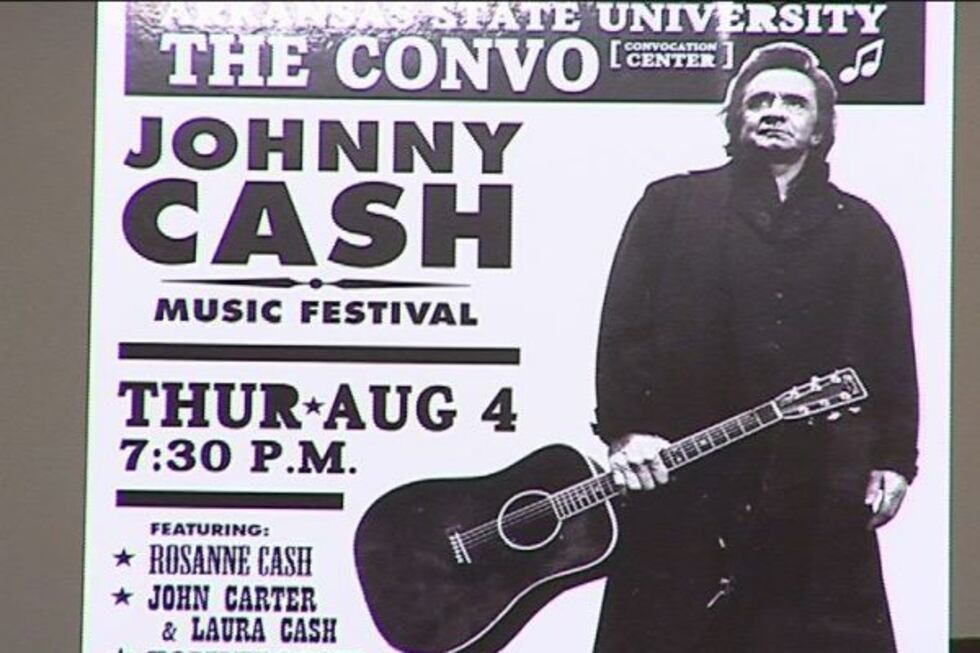 By Keith Boles - bio | email feedback
JONESBORO, AR (KAIT) - A daughter, son and brother of the late Johnny Cash were in Jonesboro to announce an upcoming benefit concert for the city of Dyess.
On August 4th the first Johnny Cash Music Festival will be held at the ASU Convocation Center with such artists as the Cash's, Gary Morris, Rodney Crowell, George Jones and Kris Kristofferson.
Rosanne Cash describes the relationship between her father and Kristofferson, " He was almost as close a brother to my dad as my uncle Tommy was and he said yes immediately."
Johnny Cash grew up and graduated High School in Dyess. His family came there from Kingsland, Arkansas.  As part of the WPA Project at the Dyess Colony his dad was entitled to "40 Acres and a mule." Brother Tommy Cash said he was excited about seeing the house again after 40 years. ASU just recently acquired the house and it too will be restored with other colony buildings.
Son John Carter Cash said the restoration is more than just old buildings. "To me it's not about my father the entertainer, or the musician it's about a very important glimpse into the history of America."
The outside of the headquarters building is currently under restoration. When that building is complete it will house the Johnny Cash Boyhood Museum and city offices.
Daughter Rosanne Cash says she doesn't want her father's boyhood home looking cheap, she wants it to look like it did in the 30's. "I would like to see the authenticity of it preserved. You go and there's something real there and it's kept through the ages and just not cheapened and thrown away."
Johnny Cash's music has universal appeal and longevity. We asked the Cash's why this was so.
Rosanne, "He's universal. They all claim him because he's real."
John Carter, "There are no rules no boundaries. His music crossed every line."
Tommy Cash, " He wasn't a country artist, he wasn't a pop artist but he was all of that."
COPYRIGHT 2011 KAIT All rights reserved.