Arkansas GOP: No more money for hopefuls under fire
Published: Oct. 7, 2012 at 12:06 AM CDT
|
Updated: Oct. 8, 2012 at 7:53 PM CDT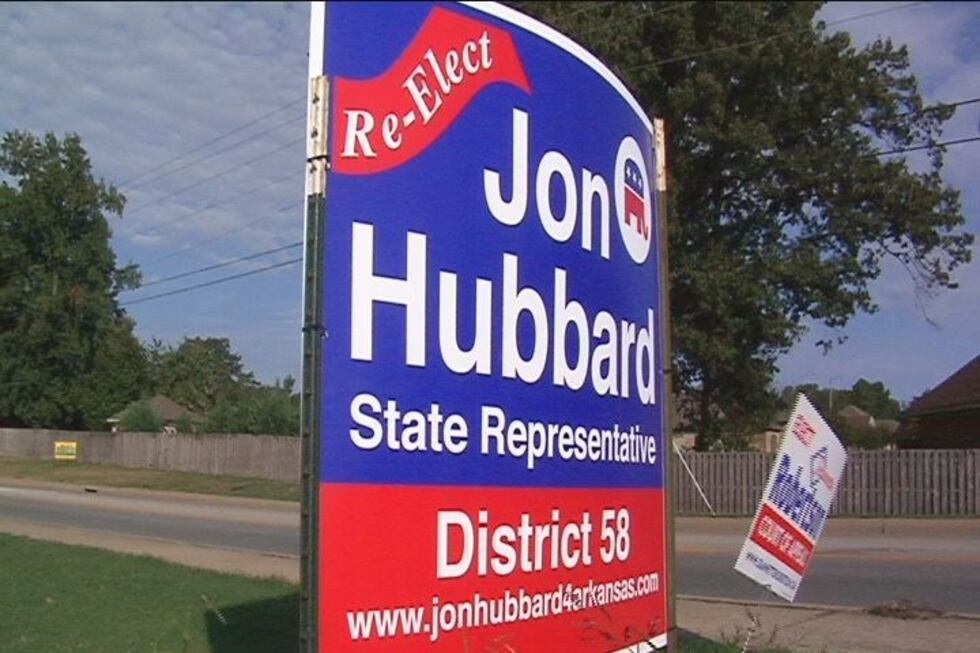 LITTLE ROCK, AR (KAIT/AP) - Arkansas Republican Party Chairman Doyle Webb says the state GOP won't give any more money to three legislative candidates whose racially charged writings have come under fire in recent days.
Webb said Monday that the party would not make any more contributions to state Rep. Jon Hubbard, Rep. Loy Mauch or House candidate Charlie Fuqua.
Webb said the decision to not contribute to Hubbard and Fuqua was influenced in part by writings party leaders called offensive over the weekend.
He would not give the reason for Mauch.
Hubbard wrote in a 2009 book that slavery was a "blessing in disguise" and Fuqua advocated deporting all Muslims in a 2011 book.
Mauch called Abraham Lincoln a war criminal and defended slavery in dozens of letters to a Little Rock newspaper.
On Hubbard's campaign website, Hubbard says anyone who reads his book,  "Letters to the Editor: Confessions of a Frustrated Conservative" will understand where he stands on many issues facing Arkansas. Hubbard is up for re-election this year.
The freshman Republican is from Jonesboro and represents District 58 in Arkansas, which covers most of Jonesboro and parts of Craighead County.
Hubbard's book covers a wide variety of topics, from women's rights to religion to slavery.
In his book, Hubbard says "...the institution of slavery that the black race has long believed to be an abomination upon its people may actually have been a blessing in disguise. The blacks who could endure those conditions and circumstances would someday be rewarded with citizenship in the greatest nation ever established on the face of the Earth."
Hubbard's viewpoint does not sit well with the Democratic Party.
"We still have a lot further to go, and Jon Hubbard simply wants to move us backwards, and I think that that's wrong for our state and wrong for us as a country," Democratic spokesperson, Candice Martin said.
Hubbard also talks about public education in his book saying, "...instead of black students rising to the educational levels previously attained by white students, the white students dropped to the level of black students. To make matters worse, the lack of discipline and ambition of black students soon became shared by their white classmates."
Martin is a former Jonesboro Public Schools student. She feels his statements are shocking.
"My mom still teaches school there. I think it's appalling for him to make such statements about our public education system and about the fact that we cannot work together regardless of race and backgrounds and cultures in improving our education system for the better," Martin said. "Clearly he thinks that is not in the best interest of us."  
Arkansas Republican Congressman Rick Crawford released the following statement regarding the recent news reports about comments made by both Hubbard and Charlie Fuqua.
"While I have not read either book by Representative Hubbard or Charlie Fuqua, I am disappointed and disturbed by the news reports of the divisive and racially inflammatory content. The statements that have been reported portray attitudes and beliefs that would return our state and country to a harmful and regrettable past."
Representative Jon Hubbard has responded to Region 8 News with an email reply to statements made in his book,  "Letters to the Editor: Confessions of a Frustrated Conservative.
Below is the
full
e-mail response from State Representative Jon Hubbard, including the full pages that have caused the controversy:

Obama-Pelosi-Beebe Democrats, led by left-wing bloggers, have attacked me over a book I wrote in 2008. They attacked me because I'm a conservative, and they've taken small portions of my book out of context, and distorted what was said to make it appear that I am racist, which is totally and completely false. These liberals offer no positive plans for dealing with the issues which are of major concern to the people of our state, and all they can do is to launch these negative attacks on those of us who do have legitimate and workable solutions to these problems. The one thing that scares the life out of them is losing their political stronghold they have had on our state for the last 138 years, and this is what keeps them awake at night. They will do anything to steer the conversation away from the real issues, and that is why they try to make me and other conservatives spend our time defending ourselves against their false accusations, instead of addressing these real issues the people of this state desperately want answers or solutions for.  
I'm focused on private sector job growth, reducing spending, and fighting Obamacare and burdensome federal mandates on small businesses, and these are the priorities I and my Republican colleagues are devoted to finding realistic solutions for. If these Obama-Pelosi-Beebe Democrats would spend more of their time working on solutions to problems, instead of trying to discredit their opponents, maybe they too could find time to address these same problems which Republicans have been working on for months.


The following are complete pages from my book, not excerpts.  You may read and judge for yourself.
THE BLACK BLESSING IN DISGUISE
For those of us who claim to be Christians, we have come to learn that when God bestows a blessing upon us, he often will also present us with a challenge to go along with that blessing, and sometimes that challenge is an almost insurmountable one. For Moses and the children of Israel, it was forty years of wandering in the wilderness. For those castoff s and indentured servants from other lands who were to make up the core of what would become the United States of America, it was to follow a dream that had never before been successfully accomplished. And for our brothers and sisters of the black race, as hard as it may be to understand and appreciate, slavery just might have been a blessing in disguise, as well as their most difficult challenge ever.  Maybe, just maybe, God had a plan for what he allowed to happen. In the formative years of this great country, there were many immigrants who made their way to this wonderful land, and many of them would soon realize their dreams, and many of their sorrows here. But the prevailing feelings of that time allowed very few members of the black race from Africa or anywhere else to immigrate here, or to assimilate themselves into that American society. The institution of slavery that the black race has long believed to be an abomination upon its people may actually have been a blessing in disguise. The blacks who could endure those conditions and circumstances would someday be rewarded with citizenship in the greatest nation ever established upon the face of this Earth. Often we just don't understand God's grand scheme of things, but if we believe that God does indeed test us at times, we just might begin to understand why he did things as he did them. It just might be that he knew that the black race was indeed a strong and courageous people who could endure an existence in the strange land into which they were about to be placed, and that they would one day reap the reward handed down to them by their brave ancestors: that of being an American. The existence and lifestyle of the people of Africa has been almost unchanged since the beginning of time, and if our black brothers and sisters can allow themselves to see it this way, maybe they can in time develop a better understanding of how and why they were placed here. Would it have been better for black Americans of today if their ancestors had never been brought to these shores? Would their lives honestly have been better as African tribesmen? If things had been reversed, it is very doubtful that the white race would have been able to cope and endure such challenges if enslaved in Africa, as the black race did in America. The e question now is, with the black race several generations into this process, will they allow themselves to take advantage of the gift that was given to them, and redeem those trials and tribulations of their ancestors? Blacks today must ask themselves, "Is their life better spent as U.S. citizens living in America, or as African tribesmen living in grass huts and constantly searching for their food?" Is life better for black Americans to be living in an America that is still evolving in its understanding of what it means to be a multicultural nation, or would they be more content living under the same conditions as those endured by most living in Africa today? Wouldn't life for blacks in American today be more enjoyable and successful if they would only learn to appreciate the value of a good education? Also, wouldn't life for blacks in America today be more successful if they would only see government entitlement programs as a last resort, or as for those who simply cannot provide for themselves due to physical or mental handicaps? Will black pride ever convince their race to take full advantage of those things that would encourage their fellow Americans to see them as equal and contributing members of the American experience? Is black pride enhanced or diminished by the continued acceptance of the victim label, as encouraged by liberal whites and far too many impressionable leaders within the black community? Blacks today have been taken in by a liberal ideology that sees their vote as their only asset. Many blacks have become great contributors to the American way of life, and although there have been numerous success stories about blacks in America, too many blacks today have bought into thethem against usmentality and have fallen into the pit of racial or class warfare as being their only option. Especially for those in the younger generations, a life of crime isseen as having a more acceptable future than the completion of a good education, followed by the accomplishments gained only from a productive occupation. Regardless of what members of the black community have been tricked into believing in the past, their success or future cannot be placed in the hands of anyone but themselves. We are all responsible for our own actions, and just as with the white community, success or failure is the result of many individual choices, and how we react as a result of those choices.
Region 8 News will continue to track this story and bring you any new details as soon as they become available.