Boy steers car to safety after dad has seizure behind the wheel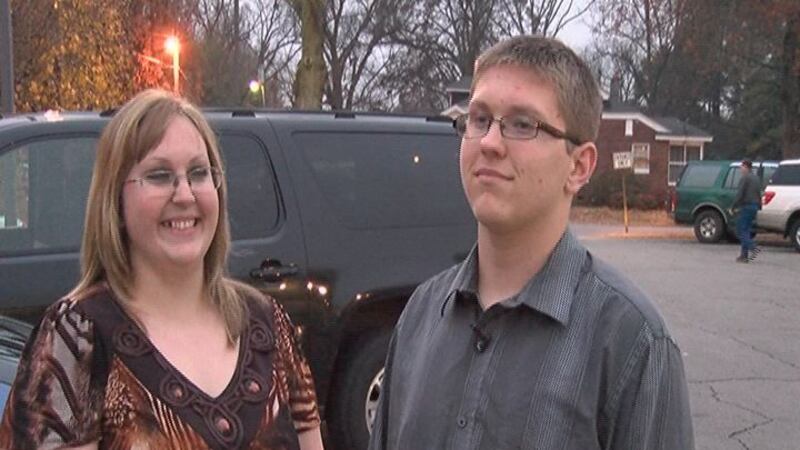 Published: Dec. 5, 2014 at 4:00 AM CST
|
Updated: Dec. 5, 2014 at 6:48 PM CST
JONESBORO, AR (KAIT) - A normal day turns terrifying for a Brookland teen and his father.
"I just hope he's gonna get out of this," Michael Jones told Region 8 News.
It's no thought any child wants to have about their parent but that's exactly what ripped through Jones' mind when his father suffered a seizure while behind the wheel.
His next thought was to get the car under control, avoid the traffic and get some help for his dad.
At 13-years-old, Michael Jones isn't even old enough to drive. "He's not interested in it yet," mom, Tabitha Brown said. "So he doesn't know how to drive."
"The only thing other that I've driven is a 4-wheeler," Jones said.
It makes what he did in an emergency situation that much more amazing. Jones says the day started out normal as ever. He and his dad had a few errands to run.
"We went outside, noticed we had a flat so we figured we should go fix it," Jones said.
Jones said he and his father made it to Gee Street in Jonesboro. That's when things took a turn for the worse.
"I looked out the window to make sure that the flat wasn't getting any worse," Jones explained.
While the tire was okay, Jones' dad was not.
"I turned back, saw my dad jumping up in the air and I thought he was just dancing because the music was on at first," Jones said. "Then I figured out that he wouldn't respond to me."
His father was having a seizure while driving down the road.
Jones immediately grabbed the wheel.
"I was trying to make sure that we wouldn't hit anybody," Jones said. "I remember going through a red light to make sure that we wouldn't hit any cars if I drove to the side. I remember going through that and stopping the car two houses away from the intersection."
Jones said once they were pulled over, he turned off the car, called paramedics and held his father's head while he waited for them to arrive.
Jones said only one thought was running through his head.
"I was just hoping that my dad could get through it."
And he did, thanks to Michael's quick thinking.
"Words can't describe how proud we are," Brown said.
Though he's just 13, he has some words of wisdom for anyone who finds themselves in an emergency situation.
"If people think that they can't do something in an emergency situation, no matter how old you are, you can at least do something to help. All you need to do is just keep a calm mind and stay at peace."
Brown said they later learned the seizure was caused by a medication issue. Aside from being a little worn out, his dad is going great.
Jones' boy scout troop recently presented him with an award for his quick thinking and composure in that situation. They've also nominated him for a National Award for what he did.
Copyright 2014 KAIT. All Rights Reserved.