Reaves, Glasper combine for 132 points in Cane Classic thriller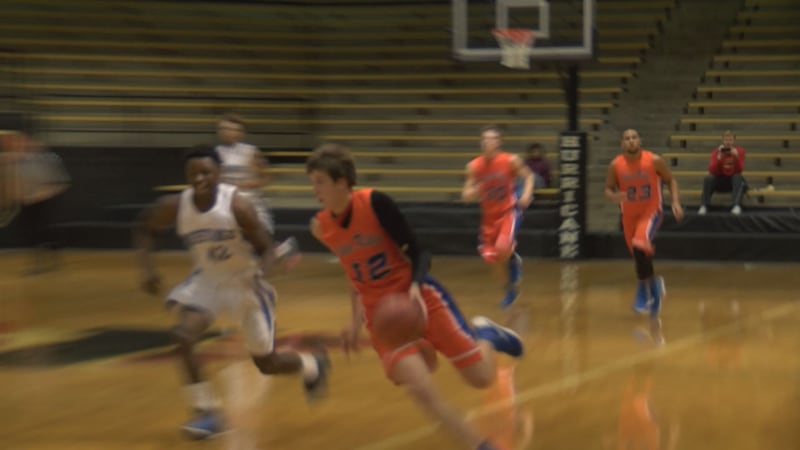 Updated: Dec. 4, 2015 at 5:00 AM CST
JONESBORO, AR (KAIT) - Cedar Ridge's Austin Reaves and Forrest City's RJ Glasper combined for 132 points in a game that saw three extra periods in the opening game of the Barry Pruitt Hurricane Classic on Thursday.
Cedar Ridge topped Forrest City 117-115 after the third overtime frame. Reaves had 73 points in the win for the Timberwolves and had 55 at the end of regulation.
Glasper went head-to-head with Reaves as the game's runner-up in scoring with 59 points.
The two teams went back and forth throughout the duration and featured a buzzer-beater by Glasper to keep the Mustangs alive and send it to the second overtime period.
This is the 31st season for the Barry Pruitt Hurricane Classic. Other results for Thursday include Springdale Har-Ber defeating Greene County Tech 65-33, Jonesboro topped Clarksville 70-40, and Valley View defeated Bay 64-52.
Play will resume on Friday at the tournament with four more games. At 4:00, Forrest City will play Greene County Tech. The 5:30 game will pit Clarksville against Bay. Winners bracket play picks up at 7:00 with hosts Jonesboro taking on Valley View in an all-Jonesboro match-up. The nightcap will pit Cedar Ridge against Springdal Har-Ber.
Copyright 2015 KAIT. All rights reserved.
Region 8 News App - Install or update on your: iPhone | Android