Armorel unveils new expanded gym lobby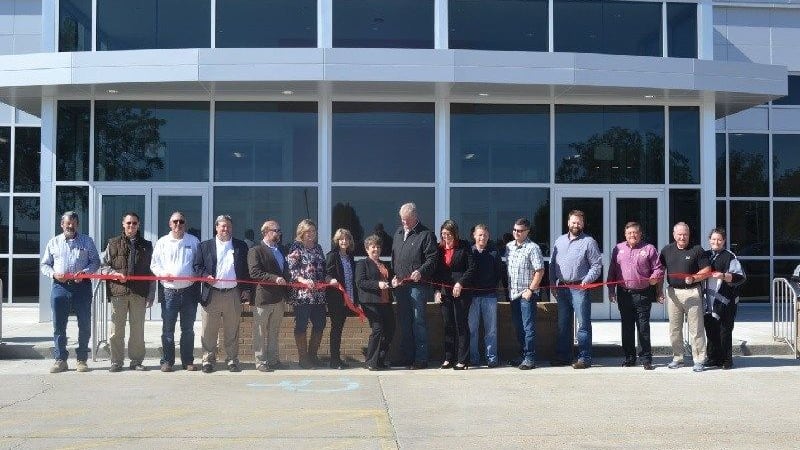 Updated: Oct. 31, 2017 at 7:39 PM CDT
ARMOREL, AR (KAIT) - A new lobby will greet visitors to the Armorel High School gym.
On Monday, former Superintendent Sally Bennett cut the ribbon on the newly expanded lobby.
The 4,913-square foot expansion began in May during Bennett's tenure, so it was only fitting she should be there when it opened.
The lobby now features curtain wall windows, an oversized concession, large group restrooms, as well as two family restrooms. A terrazzo floor bearing an intricate Armorel Tiger logo serves as the lobby's focal point.
Others attending the ribbon cutting included all of the current school board members, as well as two others who recently stepped down.
(Pictured left to right:  Vance Cartwright-Tate Construction, Keith Chunn-Tate Construction, Gaylon Tate-Tate Construction, Mike Childress-ETFC Gary Architects, Ladd Gary-ETFC Gary Architects, Angela Finley-School Board Secretary, Susan Hughes-Former School Board President, Sally Bennett-Former Armorel Superintendent, Scott Jowers-School Board President, Jennifer Barbaree-Armorel Superintendent, Jeff Hollingsead-School Board Vice President, Jeff Hopper-School Board Member, Eldon Carter-Appointed School Board Member, Dale Cook-Former School Board Member, Charlie Brown-Armorel School District Athletic Director, Teresa Lawrence-Armorel High School Principal)
Copyright 2017 KAIT. All rights reserved.
Watch Region 8 News On Demand: On your Desktop | On your Mobile device
Region 8 News App - Install or update on your: iPhone | Android