Ribbon-cutting ceremony held to celebrate new Paragould business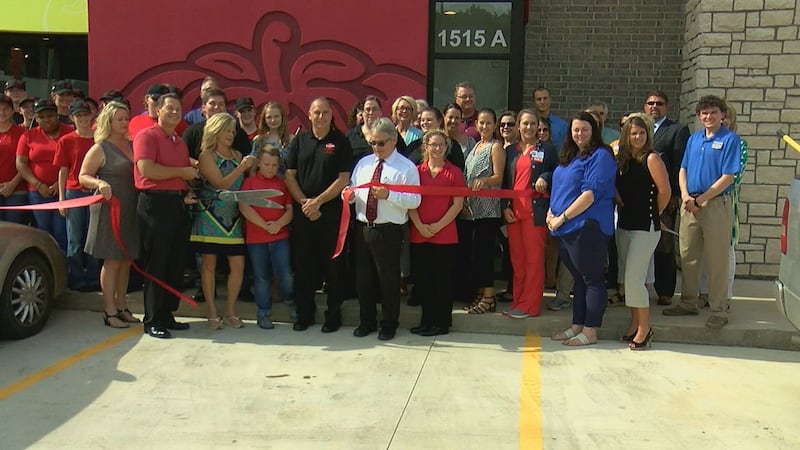 Updated: Jun. 25, 2018 at 8:08 PM CDT
PARAGOULD, AR (KAIT) - A ribbon-cutting ceremony took place on Monday in Paragould to celebrate the opening of a new business.
Fazoli's restaurant, 1515 West Kingshighway, will open its doors for customers at 10:30 a.m. Tuesday, June 26.
Paragould Mayor Mike Gaskill said he's thrilled about the jobs this new business is creating.
"Any commercial development creates more jobs," Gaskill said. "When there are more jobs created then that means we have fewer and fewer people who are unemployed. That makes a big difference in any community anywhere. Employed people make a difference in the City of Paragould . So, when we have something like this open that is brand new we have two things happen. The citizens of Paragould have a place to come and the citizens of Paragould have a place to work. So, we're very excited any time there's a commercial development in the community."
Fazoli's Owner Rob Heerden said they've already had a big response from the community.
"We've been able to hire a great group of people," Heerden said. "It's been overwhelming the response we've had both from the associates we've had coming in, potential associates, and the guests coming in the door excited for us to be open. But it's very rewarding to be able to employ 60 people."
Not only is Heerden excited about the jobs he's created, he's happy with the people he's hired.
"We've hired a phenomenal group of associates," Heerden said. "We have a management team of four and we are very excited to be here in Paragould, Arkansas. It feels very good. We've been able to hire a great group of people."
The building, a 6,000 square foot building with a seating capacity of 74 people, had been under construction for around 16 months.
"It was previously the Sunset Motel here," Heerden said. "We got into an agreement with the eye doctor next door, Elite Eyecare Center, with Fazoli's and we developed this project and it's turned into a phenomenal opportunity for both of us. It's a brand new build. We leveled the property and built the Fazoli's here."
Heerden said building a location in Paragould made sense.
"There's limited Italian in Paragould," Heerden said. "We're looking forward to being on the service side of that need. We've been working really hard, but tomorrow we'll be working twice as hard. We're looking forward to it."
Gaskill said it says a lot about your area when a business chooses to invest in your community.
"It's investing in our community," Gaskill said. "It's invested in by these people. We believe in our city. When other people come from somewhere else and do the same thing, then they believe in it also."
After the ribbon-cutting ceremony, Heerden presented a check for $500 to the children's home.
Their hours will be 10:30 a.m. to 10:00 p.m. Sunday through Thursday and open on Friday and Saturday until 11:00 p.m.
Copyright 2018 KAIT. All rights reserved.