"Got room for one more..." Anderson returns to the sidelines as Arkansas State routs UNLV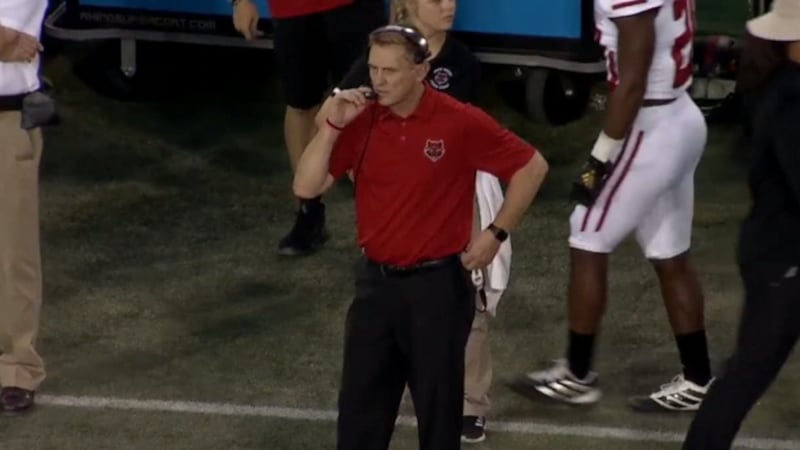 Updated: Sep. 8, 2019 at 8:15 AM CDT
LAS VEGAS (KAIT) - Blake Anderson's return inspired the Red Wolves. He surprised Arkansas State during a team meeting Saturday afternoon in Las Vegas.
Jeremy Smith delivered a surprising start to the game. He returned an interception for a touchdown on the 3rd play of the game as Arkansas State beat UNLV 43-17 Saturday evening.
Logan Bonner had a rushing touchdown in the 2nd quarter and began the 3rd with a passing score to Kirk Merritt. Omar Bayless notched his 5th touchdown reception of 2019 with a 71 yard connection from Bonner in the 4th quarter. The senior wide receiver finished with 6 receptions for 149 yards. Logan threw for 284 in the victory.
JUCO transfer running back Ryan Graham recorded his first A-State TD, a 9 yard rushing effort in the 2nd quarter. Blake Grupe was perfect in the kicking game. The sophomore drilled 3 field goals (26, 38, 31) in the victory.
The Red Wolves improve to 1-1 on the campaign while the Rebels drop to 1-1.
Next up for Arkansas State is a trip to #3 Georgia. The Red Wolves face the Bulldogs September 14th at 11:00am on ESPN.
In case you missed the game you can watch it below.
Copyright 2019 KAIT. All rights reserved.