Arkansas State football reflects on Oklahoma loss, turns the page to Memphis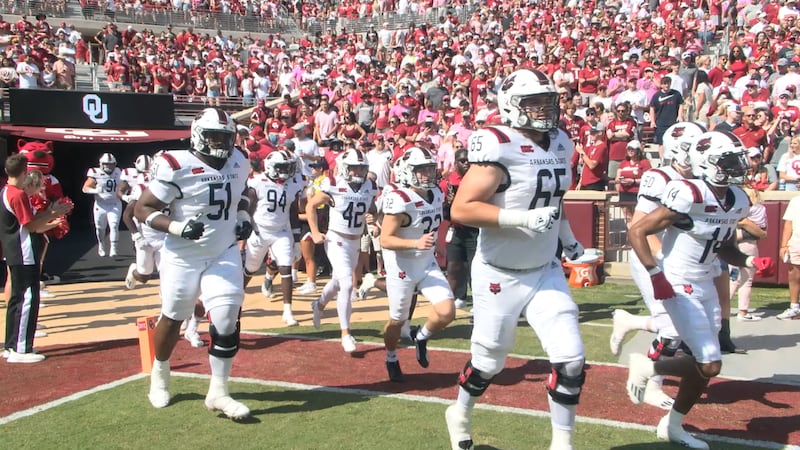 Published: Sep. 5, 2023 at 6:41 PM CDT
|
Updated: Sep. 5, 2023 at 7:45 PM CDT
JONESBORO, Ark. (KAIT) - It's another Talkin' Tuesday for Arkansas State football.
The 73-0 loss at Oklahoma was one of the lowest points for this program in quite some time. But the players have liked the response and the resolve of the Red Wolves over the last 72 hours.
"Coach basically said there's two ways we can go out," quarterback J.T. Shrout said. "We can sulk and put our head down and pout about it. Or we can use it as a learning experience. So I think the team has taken that approach to it. Obviously it wasn't to our standard, our style that we want to play football here at A-State. Just going to go into and attack practice this week and do everything we can to make sure it doesn't happen again."
Melique Straker had 11 tackles in the Oklahoma loss. "Whenever you go through any type of adversity, and this case big adversity, it really shows who you really are," he said. "Gives us an opportunity to dig ourselves out of that hole, and find out who we're really made of. You see that scarlet and you see that blue, that clash going up against each other, it's real. And you feel that around the facility now. You feel it going into this week. To be honest, I'm getting chills sitting up here talking about it."
So the Red Wolves turn the page to rivalry week. Saturday marks the 61st meeting between Arkansas State and Memphis.
"I didn't like the way we competed for four quarters of football. Did not like that at all. That's on me, and we'll get that corrected, I can promise you that," said head coach Butch Jones. "Every game you play is the most important game. And you can't put more onus on one game than the other. Memphis is a very big part of our recruiting profile. In terms of the last 2 years, I think the word that summarizes it up is competitive. I think it's been hard fought. Extremely competitive. And it's really come down to the last 2 or 3 plays that have made the difference between winning and losing the game."
Arkansas State hasn't started 0-2 since 2016. The last win over Memphis came in 2012. Red Wolves can change both of those stats Saturday at 6:00pm at Centennial Bank Stadium. The game will be streamed on ESPN+.
Copyright 2023 KAIT. All rights reserved.